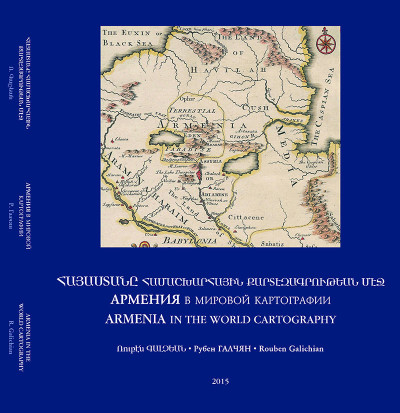 Armenia in the World Cartography
31×34 cm, pp. 272, with 172 maps and details.
Publisher: Re-publication of previously published works, for the Armenian Prelacy of Russia, on the occasion of the Centenary of the Armenian Genocide. April 2015
ISBN 978-99941-0-653-0
Language: Armenian, English and Russian
This is the tri-lingual revised publication of author's book Historic Maps of Armenia, specially published by the order of the Catholicos of All Armenians, as a presentation book for official guests.
It contains a brief history of cartography related to Armenia. The main aim of the book is to bring together the images of ancient to modern maps taken from various libraries and museums across the world, representing the world cartographic heritage. These come to show how world-renown cartographers and geographers have shown Armenia on their maps dating from around 600 BCE to the present days.
---
Book categories: Armenian, Cartography, English, Maps, Old and Medieval maps, and Russian