A short biogrpahy
Rouben Galichian (Galchian) was born (1938) in Tabriz,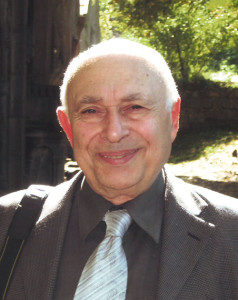 Iran, to a family of immigrant Armenians who had fled Van in 1915 to escape the Genocide, arriving in Iran via Armenia, Georgia and France. After attending school in Tehran, Rouben received a scholarship to study in the UK and graduated with a First Class Honours Degree in Electrical Engineering from the University of Aston, Birmingham in 1963.
After returning to Iran he worked in the Iranian Oil and Gas industries first as engineer and then as project manager for various pipeline projects. He was also active in designing lighting, electrical and communication systems for high-rises, university and college complexes. Since 1973 he was the Technical Director of a large consulting engineering firm, Bornaa, later renamed Nargan in Iran. From 1981 to 2000 he was a project director in Halcrow-Balfours Engineering firm in the UK, improving their design criteria and methods and later worked as consultant for oil-gas-petrochemical industries. From 2000-2005 he was the representative of Nargan Engineering of Iran, in Technip Company of France.
Rouben's interest in geography and cartography started from his school days, but he began seriously studying this subject since the 1970s. In 1976 he laid the foundation of his map collection, which in 2013 he donated to Matenadaran in Yerevan. In 1981 he moved to London with his family, where he had access to a huge variety of old maps and other cartographic material.
His first book entitled "Historic Maps of Armenia: The Cartographic Heritage (I. B. Tauris, London & New York, 2004) contained a collection of world maps and maps of Armenia over a period of 2600 years, as seen by various mapmakers. It became a bestseller of its kind and the following year, an expanded version of the book (produced in Russian and Armenian) was published in Armenia (Printinfo Art Books, 2005).
His third book, "Countries South of the Caucasus in Medieval Maps: Armenia, Georgia and Azerbaijan" (Gomidas Institute, London, 2007), provides basic historical-geographical information of this region for readers in the West The book contains 82 medieval maps and 26 detail maps, which constitute a major part of the world cartographic heritage, beginning with biographic details of their authors and their sources, augmented by cartographic-geographic analysis of all the map contents, particularly regarding the manner that Armenia, Georgia and Azerbaijan are presented on these maps.
His fourth "The Invention of History: Azerbaijan, Armenia, and the Showcasing of Imaginations" (Gomidas Institute-London and Printinfo Art Books-Yerevan, April 2009), documenting Armenia's and Armenian's native pedigree and culture through the centuries, which the recently (1918) born Republic of Azerbaijan falsifies, disputes and appropriates. The book was translated into Armenian and Russian and published in Armenia in 2010. The second edition of the English was published in Armenia in 2010.
One of his most recent books is "Clash of Histories in the South Caucasus. Redrawing the Maps of Azerbaijan, Armenia and Iran" (Bennett & Bloom, 2012), which exposes Azerbaijan's historic and cultural misrepresentations, presenting the truth revealed through various documents. The book has also been published in Russian (2013) and Persian (2015).
In 2014 he revised and abridged his most successful work, Historic Maps of Armenia (Bennett & Bloom, London, 2014).
His latest works, published in 2015, are the revised re-publication of his first cartographic work in three languages, Armenian-Russian-English, published under the auspices of the Catholicos of All Armenians in a luxurious and large volume, as well as a smaller volume entitled A Glance into the History of Armenia through Cartographic Records (Bennett & Bloom, 2015), designed to accompany the travelling exhibition of 51 map panels, which depict Armenia in various periods of its history.
In addition to the above mentioned books, Rouben is the author of many articles on cartography and related subjects, written for various periodicals and magazines.He has lectured in in the universities of Oxford, Cambridge, Yerevan and other cities such as Boston, Providence, San Francisco, Paris, Tehran, Los Angeles, Cairo etc. Some of these papers can be found in the website.
His wife Mariette is a qualified therapist and counselor with many years of working experience in London Marriage Guidance Center. Since 1994 she has trained many therapists in Armenia where she currently is active in therapy, counselling and training of the specialists.
Rouben and his wife are also involved in many charitable projects in Armenia. He has been the chairman of Aid Armenia, a British charity, which built and equipped the children's hospital in Vanadzor, they are trustees of Friends of Armenia, involved in projects dealing with education, health and alleviation of poverty in vulnerable families by providing them with means for getting additional income. They also have founded Levon Galchian Art Studio in the village of Myasnikian, Armavir Marz, in memory of their artist and designer son, Levon (1965-2004), where village schoolchildren can learn various crafts and arts.
In appreciation of the services offered to Armenian historical cartography, Rouben was awarded an Honorary Doctorate by the National Academy of Sciences of Armenia in November of 2008. In 2009 he was the recipient of "Vazgen I" cultural achievements medal. In 2013 the President of the Republic of Armenia awarded Rouben the prestigious Movses Khorenatsi medal for his achievements in the preservation of the Armenian heritage and improvement of relations between Armenia and the Diaspora.
August 2015.